Finding brands on AliExpress can be a nearly impossible task. Brands don't want their counterfeit products to be sold on AliExpress, therefore the products are quickly withdrawn.
However many sellers have put in place hidden links or temporary links that will last a certain time, let's say 1 week, before being removed. When knowing these links and the search acronysm it is then possible to find high quality products at a very low price. Finding these links is not an easy task but with this site you will know all the methods to find them.
To find brands on AliExpress, you can apply any of the following 3 methods:
Method 1: Find Brands with the AliExpress Wishlist


Users have created whishlists for each brand, and direct link products are updated on a daily basis
—–
Method 2: AliExpress Brand List by Secret Kewyord
Brand goods are coded with secret acronysm. The table of the 100 AliExpress Brands lists of these keyword.
—–

Method 3: AliExpress Ephemeral link


Temporary links of branded goods shared among AliExpress users
Note: If when clicking on a link nothing happen, this is because your AdBlock is blocking the page. Simply authorize this site to have the links working correctly. You can also manually copy/paste the link in a new tab.
---
Sommaire - Cliquer pour étendre ou réduire
Method 1: Find Brands with the AliExpress Wishlist List
This is one of my favorite and most effective methods: each AliExpress user has the ability to create a wishlist and share it with other users. Users have created publics wish lists associated with a brand and keep them up to date so that you can find products directly (see counterfeits). When a product disappears, the user updates the list with other products.
How does the the AliExpress Public wishlist works?
You just have to click on a brand and you will be redirected to the corresponding wishlist. A wishlist contains a maximum of 9 products (this is an AliExpress limitation). These wishlist are regularly updated for each brand, just look at them regularly if a brand interests you. You can see an example for Burberry by clicking here.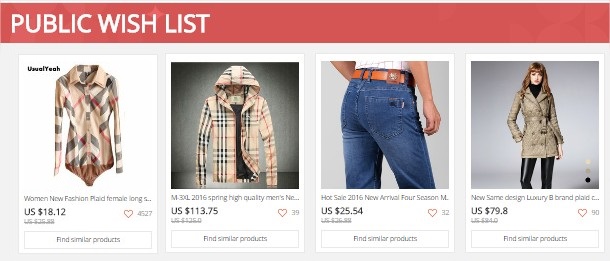 In exclusivity, here is the awesome list of the 180 AliExpress Brand Wishlist!!

---
Method 2) List of the 100 ALiExpress Brands with keywords
March update: 100 verified references! Some sites will propose many more brands, but if you click you will see that their links do not work. 100 references make it possible to keep the list up to date.
This table explains how to find the men and women brands on AliExpress, by clicking on a link you will find either products of that brand or equivalent brands. The brands have acronyms that are listed below. Do not hesitate to add the word « luxury » in your search to target the luxury products. To choose between men's and women's brands, men should be labeled « men » for men and « women » for women.
Only 2 steps!
Look in the table below for the hidden brand. There are 3 pages.
Click to open a new tab and access the AliExpress site with the correct code
Liste des marques AliExpress
If you find errors, want to add references or need help, feel free to leave a comment.
It is possible to find originals cheaper because the sales are made directly from the factory. Only the packaging will change a bit, but the product will be the real one.  There are also imitations but this is not allowed by AliExpress. A sellers tip is to show images of the products without the logo but this one will be present on the product sent, it is important to read the sales description and the evaluations of the buyers.
As the stores are dynamic, it is possible that the links do not refer to anything conclusive, it is up to you to be imaginative to find 🙂 Regarding the questions and problems of customs, if you take a standard mail by Chinese post, Everything should go well.

---
Vendors create AliExpress hidden links of branded products that are shared between users. 
Important : these links have a very limited duration, and can expire at any moment.
If you buy a product to a store on AliExpress, and this store is closed from ALiExpress few hours later, no worries.
There are 2 situations:
Your package will be well sent and you should received it after 1 month or 2. The seller will update the order with the tracking number.
Your package is not sent, there is not tracking proof, and you will be reimbursed by AliExpress.
Keep in mind that the seller is paid only when you confirm the delivry of the package and its conformity. There is no interest for the seller, to sell you Something wrong otherwise he will never get his money.
---
Additional information about Aliexpress, how does it work?
Unlike other Chinese sites, AliExpress does not sell anything. Yes, you read correctly !
AliExpress merely connects suppliers, who produce articles, with buyers. Some sell Chinese brands, but most offer fabrications emanating from the signature of a European company.
Previously, it was necessary to have a large number of intermediaries to import a product from China, and be able to sell it in stores. This was expensive, as the representatives of these commercial signs had to go to China themselves, to get the right products from the right suppliers.
This was how they chose to decide which items were to be offered to consumers. But that was before.
Today we are in 2017, and things have changed. It is no longer necessary to travel the world to find a product from a Chinese supplier.
And brands in all this? Why do not they take advantage of this opportunity?
Even if a large part of the productions of the big brands are made in China, it is not that you will find authentic products on AliExpress. Indeed, brands tend to lock their distribution channels, and to ensure that no supplier offers its products directly on a marketplace. The brand wants to maintain its margins, but also to maintain a high-end positioning, and to be able to justify charging high prices.
Take Adidas shoes, which are offered in France sometimes for more than 100 euros. Do you really think that the brand uses materials that justify such a price? This is obviously not the case!
The brand benefits from juicy margins, thanks to a high-end positioning that allows to prove the quality of the pieces offered. And that's why it does not want one of its suppliers to produce « stan smith » in secret to offer them on AliExpress itself has broken prices. For it will be difficult to offer them for a hundred euros in store, to customers who know perfectly that they can order exactly the same model using their smartphoone.
To conclude on brands and AliExpress
The Chinese firm wishes to avoid any risk of being discredited by proposing counterfeits. That's why she is tracking down sellers, who are likely to be banished forever from the platform if they are caught in the bag.